photo credit  Caveman Collective &  Gaia
Mara was awakened to the potency of Hatha Yoga in India twenty years ago. Teaching yoga and meditation now for over a decade, Mara's ability to hold healing space for the hearts and minds of others offers a vast landscape for transformation within. In her classes you can expect to be challenged and awakened through unique sequencing, articulate asana, grounding meditation, and enlivening pranayama practice.   In her yoga teachings, Mara weaves together her background as a dance artist, her practice in the shamanic tradition, and her twenty years of experience on her mat – naturally what arises is a fluid, earthy, full bodied practice. Currently, Mara hosts international yoga retreats, fuses yoga and corporate leadership to executive teams, teaches professional athletes and artists, mentors yoga teachers and teaches classes/workshops in Vancouver. Mara is a regular contributor to Gaia  (formerly known as My Yoga Online) and her most recent yoga classes can be viewed online here.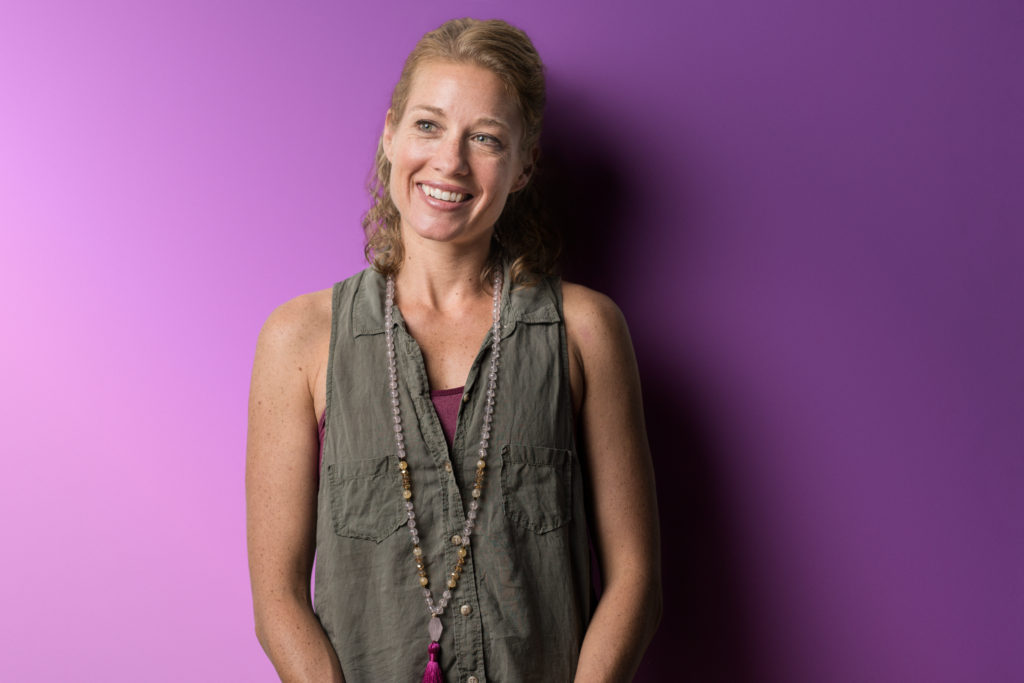 photo credit Caveman Collective & Gaia 
My childhood was dedicated to the freedom of flight- as a competitive gymnast my everyday was dedicated to the art of "practice." I was in love with the feeling of being in flight, of mastering my body to perform the tricks a gymnast does. I retired at the age of 16 and continued to teach and choreograph to other young gymnasts. While completing my degree at Bishop's University in Women's Studies and Cultural History i stumbled on Iyengar's "Light On Yoga" while researching for a course in Eastern Philosophy. This was the beginning of my yoga practice………life then took me to India where i found a teacher who taught Sunrise yoga on a rooftop in Varanasi. This practice brought profound awakenings and potent teachings and for sure altered the course of my life in the best way possible. I then went on to plant trees all over Canada for six summers, sailed across the Atlantic Ocean, became a Waldorf Kindergarten Teacher, lived in a cabin without electricity, became a yoga teacher, completed a contemporary dance degree, danced and choreographed professionally for 8 years, co-founded The Tomorrow Collective and the series "Brief Encounters" and became a full Mesa Carrier in the Incan Shaman Tradition. And now, as a mother of two girls, i feel so close to the source of my practice- yoga in the "every moment" to be the best mama i can be. My current yoga practice and teachings have brought together an embodiment of the artistic, ritualistic, fearless open heart, diving deep into the unexpected, witnessing the patterns of energy flow in my body and others, catching obstacles in the moment, and embracing both the sacred feminine and masculine as a catalyst for transformation. My intention is to make yoga and meditation accessible to every person willing to step onto their mat and commit to putting their best self forward.
With Beauty may I walk:
With Beauty before me, may I walk.
With Beauty behind me, may I walk.
With Beauty above me, may I walk.
Wish beauty below me, may I walk.
With Beauty all around me, may I walk.
It is finished in beauty.
It is finished in Beauty.
—Nightway Chant, Dine', Navaho.

Mary Jo Fetterly: my dear friend and long time teacher
Rod Stryker: yoga master and a teacher of teachers
Sally Kempton: teacher of divine feminine/meditation
Crystal Pite: choreographer/dancer extraordinare
Christine Selda: shamanic healer/teacher/ spirit sister
Jhaimy Alvarez­ Acosta: shamanic healer and guide
Peter Bingham: contact dance teacher/choreographer
The Tomorrow Collective: my baby­ co­created/co­founded dance company
Rhoda Pitcher: corporate coach/visionary/leader of change